Custom 45mm Apple Watch Series 9 Stainless Steel 24K Gold Plated LTE Blood O2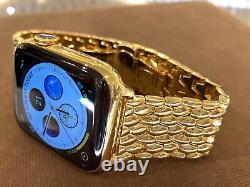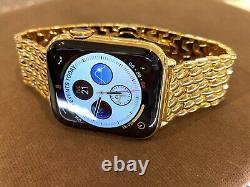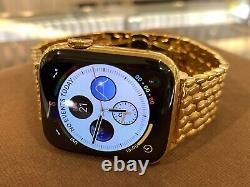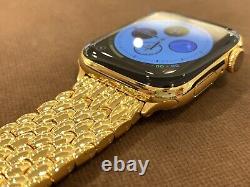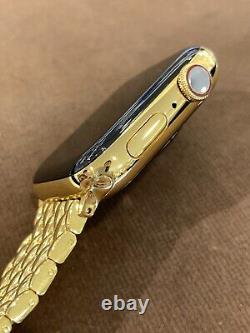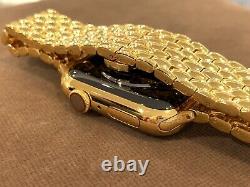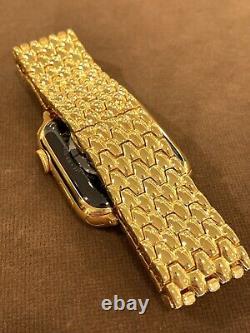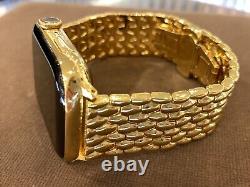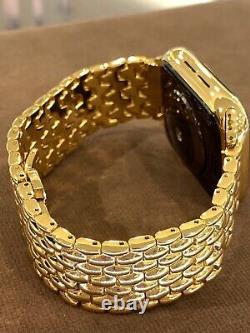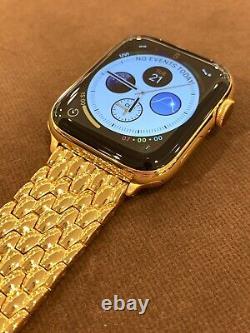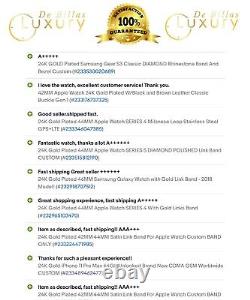 Original Apple Watch Series 9 stainless steel (2023 Release) customized and professionally gold plated by De Billas with an industrial grade of authentic 24 Karat Gold. We Triple plate all of our items with a high thickness and industrial grade of genuine 24K Gold.
Our proprietary immersion process deposits a beautiful layer of real 24K Gold. We do not apply nickel to our gold plated items.
Triple plate offers a strong gold finish! We have been customizing and electroplating the Apple Watch since the 1st Generation came out in our Own laboratories.
This Apple Watch is equipped with sapphire glass which makes the screen almost scratch less. The digital crowns center was not gold plated to not affect the ECG/EKG function on the watch. The package will contain the following items. 45MM Apple Watch SERIES 9 24K Gold Plated with 24K Gold Plated Links Butterfly Buckle Band. Our company guarantees our watches are gold plated utilizing a nickel free process.
Please note claims should be processed directly with us. We are not affiliated with Apple. This is a customized gold plated Original Apple Watch. Pictures are for identification purposes.
Apple and/or Apple logo are trademarks of Apple in the United States and/or other countries. All other trademarks, trade names or company names referenced herein are used for identification purposes only and are the property of their respective owners. If you need to return the item please make sure the device is not linked to your iCloud or Samsung account before sending it back. Over 20,000 Satisfied customers. We are the leaders in Gold Plating the Apple Watch and Samsung Galaxy Watch.
As you can see in our Store and online we have the largest selection of gold plated watches available and have mastered the gold plating process for this unique top of the line technological items. Our Master Gold Plater has over 30 years experience and guarantees a finish superior to any other gold plating. We were the first company to gold plate the Apple Watch and Samsung Galaxy Watch in house.
Guarantee the best quality/service for your gold plated watch and use the finest quality 18k and 24k Gold for our watch plating in our state of the art lab. Every watch is triple plated to guarantee a beautiful and the thickest gold plating possible.

---