Custom Damascus Steel Wedding Band Dome shape Brass Line Stainless Steel inlay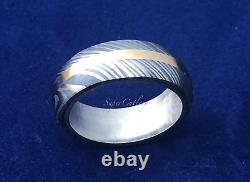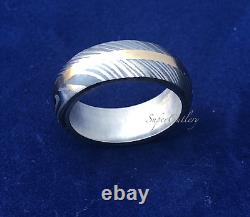 Custom Damascus Steel Wedding Band Dome shape Brass Line Stainless Steel Inlay. Custom Handmade Stunning Damascus Steel Ring, with Brass sideline, acid finish well weighted, dome shape genuine craftsmanship made by professional metal smith. The ring Size: various with 8mm in width, we custom make all sizes. We use the best and finest Damascus steel for our rings. Your own unique pattern in Damascus.
Owning a Damascus ring is owning a ring that will last for generations with proper care. We give full satisfaction to our customers, our rings and our service is outstanding. If you have any questions please feel free to ask. Please keep in mind that these rings are handmade and NEVER machine made so you may see if any at all very slight cosmetic flaws because of it being totally 100% handmade.
Please double check your country's custom restriction policy Purchasing this item, you are certifying that you are 18 years of age or older. Please note that all monitors are different, and will display colors differently. Also note that our Acid Wash Damascus Steel is charcoal grey, not black. You should care for your Damascus Steel Wedding Rings as you would any fine jewelry.
Salt water and harsh chemicals should be avoided exposure can make the ring more susceptible to rusting. These rings can be cleaned with ultrasonic, steam or warm water and simple non-abrasive soap. Remember to dry properly and lubricate after cleaning, polish with a soft cloth. To keep your rings (and all your jewelry) looking their best.
Don't wear your rings to the gym or while lifting weights or during any other activity where you will sweat heavily. Don't wear your rings in chemically treated water (hot tubs, pools, shower) and never wear any jewelry in salt water. Remove your rings while using harsh chemicals, doing household chores or yardwork.
Remove your rings while applying makeup, perfumes and lotions.

---