CUSTOM Hand Forged Stainless Steel The LEGEND of ZELDA Full Tang Sword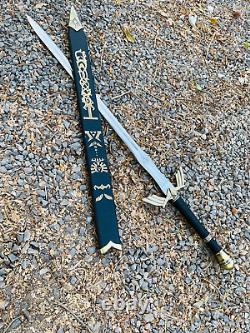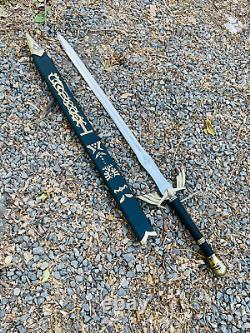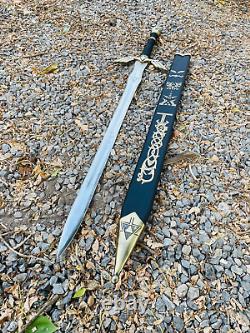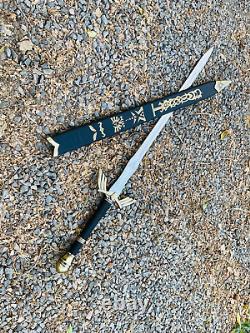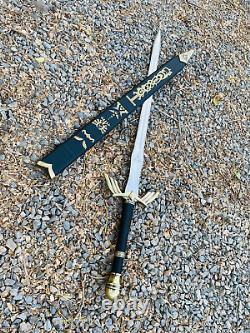 CUSTOM Hand Forged Stainless Steel The LEGEND of ZELDA Full Tang Skyward Link's Master Sword with Scabbard-Costume Armor Best Gift for Him. Master Sword that was used in the Ocarina of Time game of the Legend of Zelda series is available at our store. Shiny and heavy, the Sword is an ornament you want for your collection!
A sword that you could earn you much appraisal from fanboys, get the ditto replica of this version of the Sword seen in Legend of Zelda in Link's hand now! (1): Specifications of the Skyward Sword is under below. Its total length is 42 inches Approx. Its scabbard Length is 35 inches Approx. The handle measures to be 10 inches long Approx.
The Sword comes with high quality stainless steel blade + scabbard. Guard: Aluminum Alloy, Bronze Antiqued Finish. Scabbard: Wooden, Metal Fittings, Entirely Wrapped in Faux Leather.
Scabbard Fittings: Antiqued Metal Finish, Tri force Emblem. The Scabbard is also free with this real sword. The shine and size of the blade make it more similar to the real Sword of Link. Master Sword thoroughly serves the purpose of a showpiece because of its perfect size and shape. The weight of Master Sword makes it even more feasible to be hung at walls.
All of our products are made with good Quality materials and by Expert Craftsmen. You will find extreme Quality. If your product has some defect, simply take photo of that section and send that to us.
Never store your swords in sheath for long time because leather absorb water which causes rust to the blade. Always clean the blade with oil or wax after use. Your Satisfaction is our First Priority.

---