CUSTOM Hand Forged Stainless Steel The LEGEND OF ZELDA Master sword with scabard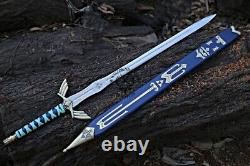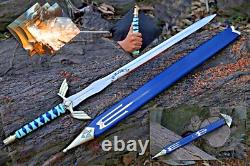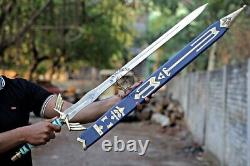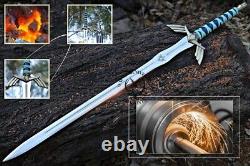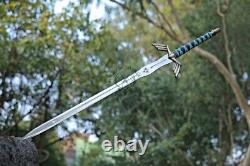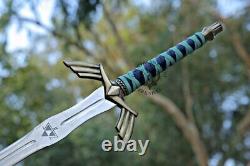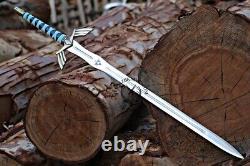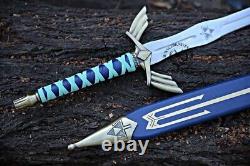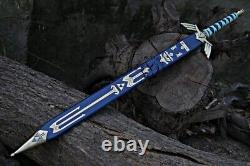 INK SWORD: ZELDA MASTER SWORD. Limited in availability, this Zelda Master Sword replica is based on the video game Skyward Sword. Both sides of the blade have laser printed graphics of runes and the Triforce. Authentic aluminum alloy is formed to make the handle guard and then finished with an anodized Bronze antique look. The hilt is made of hardwood, then wrapped in overlapping blue faux leather, with light blue cross strap wrap. The pommel is also aluminum alloy with the matching antiqued bronze finish and the most unique shape.
Solid hardwood is used to match this scabbard to the sword with handsome uniqueness. Firstly, it is entirely wrapped in faux leather blue and gold. The gold wrap is embossed so it is raised above the surface, providing a three dimensional texture that doubles as a tight gripping surface.
Metal fittings are used to enhance the quality of the scabbard. At the bottom is an aluminum alloy fitting that features the Triforce embellishment engraved onto both sides. Overall Length: 49.75 Inches. Blade Length: 30.5 Inches. Blade Style: Fantasy Longsword, Video Game Replica.
Blade Features: Laser Print Trif-orce, Laser Print Writing & Runes, Both Sides! Sharpness & Functionality: Semi Sharp, FULL TANG, Ultimate Replica.
Tang: Full Tang, Carbon Steel. Guard: Aluminum Alloy, Bronze Antiqued Finish. Handle: 12.125 Inches, Wooden, Faux Leather Wrapped. Scabbard: Wooden, Metal Fittings, Entirely Wrapped in Faux Leather. Scabbard Fittings: Antiqued Metal Finish, Tri-force Emblem.
Scabbard Features: Embossed Golden Design.

---