Custom Handmade Stainless Steel Short Sword with Leather Sheath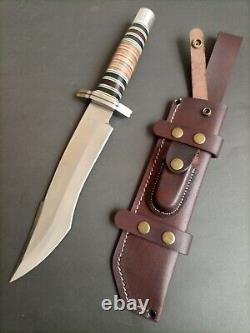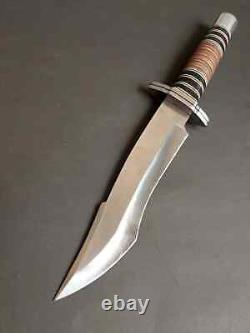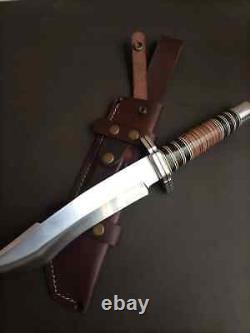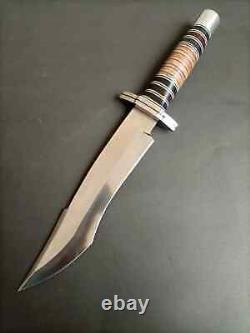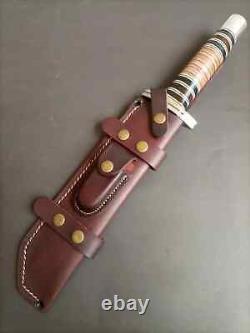 COMPLIMENTARY SERVICES & ADD ONS. Complimentary genuine leather hand stitched sheath. Complimentary personalization & engraving available up to 10 characters. Custom orders for 10 or more pieces. You can choose & submit your own handle or design.
And wedge blade is light weight and compliments the handle in maintaining balance and help to alleviate fatigue and pains on your fingers after use with comfort while providing you with the perfect blend of performance and comfort. The meticulously constructed handle has gone through special treatment, making it extremely impervious to heat, moisture, cold with military grade strength and life-long sturdiness; multiple times riveted for extra resilience. Ruthlessly sharp edge is handcrafted by seasoned artisans to a mirror polish at 12-15° per side using the traditional 3-step honing method; Nitrogen cooled for ultimate hardness, flexibility and performance. This short sword looks great in the sheath or on a belt making it easy to retrieve.
It has the perfect sharpness to make your everyday utilitarian tasks an enjoyable experience. Perfect for hunting, fishing, hiking, camping, boating, backpacking, or any other outdoor adventure. It is also a key item to add to your survival tactical gear! We do not sell knives to anyone under the age of 18. Please check your local legislation about knife restrictions.
Please check other store sections to find more exciting stuff. Thank you for visiting my shop.

---