NH35 Seiko Custom Watch 40mm Royal Oak Mod Stainless Steel with White Dial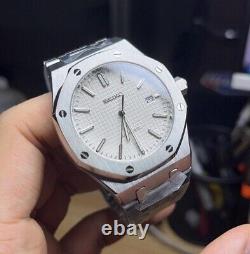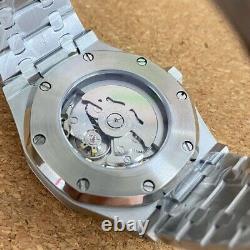 Custom Watch NH35 Seiko 40mm Royal Oak Mod Stainless Steel w/ White Dial. An Exquisite Custom-Built Inspired Seiko NH35 Watch in Stainless Steel.
Unveiling our latest creation, a custom-built timepiece that beautifully blends the allure of Royal Oak signature design with the reliability of Seiko's NH35 automatic movement. Assembled meticulously by our experienced watchmakers, this remarkable piece embodies our commitment to precision, craftsmanship, and timeless design. At the heart of this watch is the genuine Seiko NH35, a hallmark of high-quality and robust mechanical watches. The NH35 is an automatic movement, which means it requires no battery to run, harnessing the natural movement of your wrist to power the watch. This particular feature not only reduces maintenance requirements but also adds to the appeal for watch enthusiasts who appreciate the intricate art of mechanical watchmaking. Original NH35 Automatic Japanese movement. Case thickness: 12.5 mm. In conclusion, this 41mm custom-built watch is a unique blend of design inspiration, superior automatic movement, and resilient construction.
It offers a distinct opportunity for enthusiasts to enjoy the Royal Oak design, combined with the precision and reliability of a Seiko NH35, in a truly unique timepiece.

---