Step Steel True Shift Stainless Steel Runners! VH Custom Hockey Skates Blades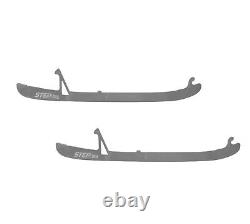 The Step Steel True Shift Stainless Steel Runners are handcrafted in Canada with the highest grade of Swedish Stainless Steel. Designed and engineered with precision to reach maximum performances, Step Steel goes through an exhaustive list of quality control tests to meet athletes and trainers' severe standards. Step Steel's elite alternative to factory steel is designed for a tighter turn radius as well as additional durability.
The Step Steel True Shift Stainless Steel Runners are designed to fit seamlessly with the True VH Shift holders. Will fit exactly the same as original steel. Made with high quality Swedish steel. Flawless side finish for superior edge quality.
More steel for added skate lean and increased blade life. Pitch corrected profiles with no lumps or flat spots.
Includes two runners (1 Pair). Exact rates are charged based on package weight and size. NOTE: IF YOU SELECT THE SKATE SHARPENING OPTION, WE WILL PRECISION SHARPEN YOUR BLADES TO PERFECTION. IF YOU WANT A PARTICULAR HOLLOW (IE, 1/2", 5/8", ETC), SIMPLY INCLUDE A MESSAGE AT CHECKOUT WITH WHAT YOU WANT AND WE WILL SHARPEN TO THAT HOLLOW. OTHERWISE, WE WILL SHARPEN NEW RUNNERS TO 5/8.

---